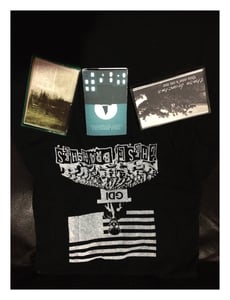 $

8.00
GET ANY SIZE t SHIRT WE HAVE:
((designs include: The EYE ... GDI &&& THE BABY))
in your designated size and a color we choose...
&&
"THE PAYOFF" on VINYL
&&
and "BELIEFS" or "SPLIT EP" or "THIS IS ON ME"
on limited CASSETTE TAPE
(will be randomly selected unless otherwise requested).
U.S. Shipping INCLUDED IN PRICE...
"NOTE" Any preferences needed in PAYPAL!
We Will Try to
accomodate!
**if we run out of a size/item- we will contact you ASAP to work out options**